Current Page
---
Can a Fuel Bladder be used to store spare gasoline?
I want to know if it is permissible to store approximately 50 gallons of gasoline in a fuel bladder on my boat when taking long trips. If it it, is it the same bladder that's used to store diesel fuel? Thanks. Thank you for contacting Portable Tanks, a division of GEI Works. Our flexible collapsible fuel tanks are built and used for stationary storage of diesel fuel and fuel only.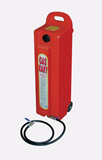 To store spare gasoline we recommend to use our gas caddies. They are economical and ideal for frequent fueling of boats and other water crafts. Our gas caddy meets UN and DOT specifications when used according to the fuel transportation guidelines. LEARN MORE
For pricing information, please feel free to Request a Price Quote. Don't hesitate to contact our tech team for further questions at +1-772-646-0597.
---